I need two identical masks for a film. Is that possible?
Absolutely. As our masks are all hand made and hand built from scratch, there will be small differences, but nothing significant. Please note, it's better and advisable to order both masks at the same time so they can be built together, rather than having one made and then asking for another a few months later.
What are Grim Stitch Factory masks made of?
Every scarecrow mask is built up in layers with the thickest, highest quality organic burlaps available.

Do the scarecrow masks contain silicone or latex?
No. None of our masks contain any silicone or latex.
How long does it take you to make a scarecrow mask?
It can take a few days depending on the complexity of the mask. Here's a general idea of the broader steps taken.
In keeping with tradition, the process begins when I select quality burlaps, pattern pieces, cut, size, and build a comfortable under mask. I then measure, cut, and size more burlap, this time for facial pieces for both anatomy building and overall coverage . For some masks, very specific facial shaping is done carefully with tools and hand manipulation of the thick burlap to achieve a look of rippling, buckling, and anatomical accent like on cheekbones or brow lines. Next, I employ large antique carpet needles to carefully stitch and knot the mask, not just for the purpose of construction, but also for aesthetic appeal and design. I often need pliers in tight areas or flat areas to drive or pull the needles through the dense burlap folds and seams. After that labor is completed, I commence with the enjoyably meticulous work of weathering and decaying the look of the mask.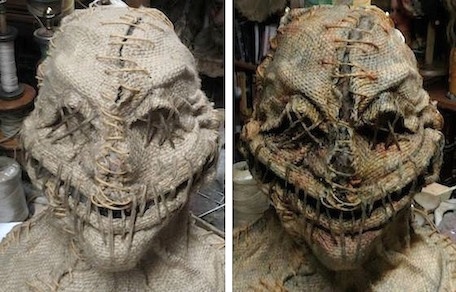 For the color, decay, and aging, I use only brushes. I never use and air brush – do not even own one. Layers upon layers of stippled in color, 15 – 20 at least, are built up by hand & small brush work to bring out the character of the mask.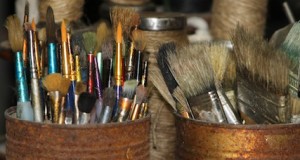 Between some layers, stiffening is added all over to harden the piece as I go and add even more rustic color. Once the mask stiffener and color sets (usually over 12 hours), the mask is removed from the bust, all the finishing work begins (inside and out), as well as any further coloring and detailing, stitching, and additions (such as straw, fabric chest drapery, etc) commence. So yeah… days.
It looks like some masks do not have mouth or nose holes. Doesn't that make it hard to breathe?
Some masks actually have small mouths, some don't. But holes or mouths can be customized into a mask upon request. But even the thickest burlap adhered in tight multiple layers breathes quite well, even hardened. In fact, of the hundreds of masks I've sold, my clients have never had any issues with the ventilation. But again, customizing isn't a problem.
Do you do make replicas?
I do not make "exact" replicas, like the "Batman" scarecrow. As a designer and a professional artist, I respect the creations of other artists, which means I don't make money off their designs. However, into an original mask, I can incorporate elements of another mask, such as a type of stitching, a color, or an eye or mouth shape. As long as it does not start to copy the original piece.
Do you do complete custom pieces?
Absolutely. If you have a design yourself, I'll work with you to bring it to life and create an original scarecrow mask just for you.
What do you charge for customizing your masks?
There are two kinds of customizing: Changing small elements of the design such as color, eye size, mouth shape, can be done free or at a very small cost. Adding to an original design, such as blood, buttons, straw hair, extra seams and stitching etc can range anywhere from $10.00 to $50.00 or more depending upon the extent of the change or changes. It's best to consult me directly when placing an order so I can work with your ideas to get you the best price.
Are prices listed in Canadian Dollars or US Dollars?
All prices listed on this site are in U.S. Dollars. I create a lot of masks for clients in the United States, so for ease of doing business and consistency, we list all products in $USD.
How many people work at the Grim Stitch Factory?
Only one.
Me.
I'm a force of one, designing and handcrafting every Grim Stitch Factory mask, and communicating personally with every client.
How long will your masks last?
Burlap is an extremely hardy, tough material that does not dry out, crack, rot, or break down due to a chemical construction like other materials. So the mask requires minimal care to last and last for as long as you own it.
Are the masks finished on the inside?
Yes they are. We not only use a very dense flat upholstery burlap for the inner face but we also add a full compliment of super soft foam sponge pads for extra comfort.
What size are the masks?
The masks are built on special head form that I have designed and made specifically for this kind of mask, so the masks easily to fit adult male heads comfortably.
Do you make masks to fit women or children?
Children no. But we do have a selection of slightly smaller adult head forms that can be used for certain mask designs for women or men with slightly smaller head sizes, but simply adding extra padding to the large masks seems to work for women.
Have a question or order inquiry?
Get in Touch